Τhe ultimate Mykonos "beach menu" has something for everyone, regardless of taste, budget or mood.
AGHIOS IOANNIS
Beautiful and family-friendly. All-day, excellent accommodation and dining facilities.
Bonus: the chance to swim in the gold and purple colors of the evening, watching a spectacular free show as the sun sets behind the sacred island of Delos.
ORNOS
A fishermen's settlement, popular with families and boaters who appreciate the docking facilities. An easy-going place to spend the day relaxing, swimming and having a simple meal, or perhaps an impressive gourmet feast, in one of the nearby tavernas or restaurants.
PSAROU
Once a safe haven for humble fishing boats during bouts of serious north-wind "Eighters" (that is 8 out of 10 on the Beaufort scale), this calm bay became a "perfect storm" of luxury beach-clubbing when "Nammos" became synonymous with delicious Mykonian decadence. Today, Psarou is still peaking, although with some unavoidable new competition from nearby Paraga.
PLATYS GIALOS
If you happen to be staying in the area, you'll be perfectly satisfied with the waters, the beach services and the dining options. The little boats that come and go will take you to a few of the neighboring beaches (Elia, Agrari, Paradise). A short distance from Chora, Platys Gialos makes for an excellent combination of a day at the beach, followed by a long night out at town – and then a stroll back.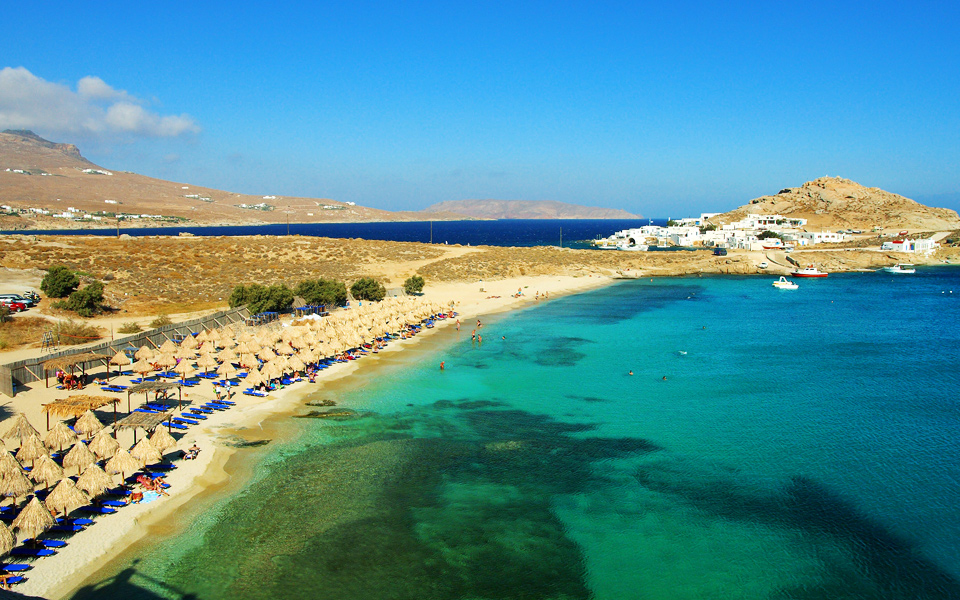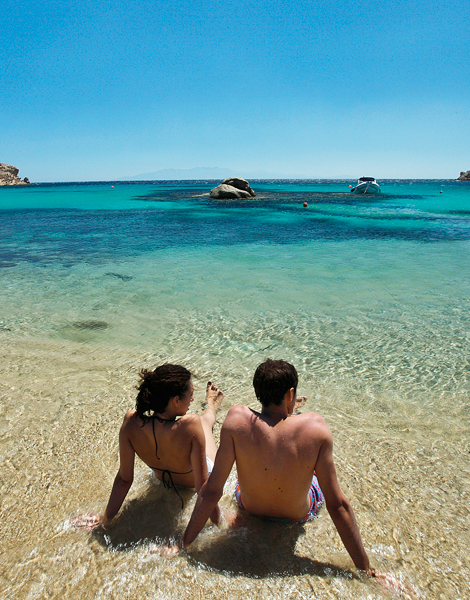 AGHIA ANNA
Next to Paraga, a small, super-cute, unpretentious beach with basic facilities (loungers and umbrellas for hire). Good food in the restaurant – if you are looking for local dishes and fresh fish.
PARAGA
A winning combination of crystal-clear waters, high-quality beach service and a multitude of all-day venues, ranging from the yummy all-Greek food Nikolas Taverna , to the cheerful good times at "Kalua", to dining, drinking and chilling in the super-glamorous "Scorpio". A must-visit, if you want to "see and be seen" on the island.
SUPER PARADISE
This smaller beach is one of the most magical places in the Aegean. Its natural beauty will be difficult to see, though, as it is always jam-packed with partygoers, nudists, and a young, dynamic gay community. Super Paradise self-advertises as "the party that never ends." They really mean it: the party started about 30 years ago, and hasn't stopped since.
PARADISE
Young, friendly, flirty, boozy and absolutely packed, this is just the kind of atmosphere you expect to find on a "Mykonian" beach. Not exactly for those seeking a quiet day, or a quiet life.
AGRARI
All day lounging, water sports, organic food, Wi-Fi, beach service, family-catering; if there was a roof over your head, you'd swear you were sitting comfortably at home. Instead, you can worship the sun with all the creature comforts you don't want to go without.
ELIA
Simply spectacular long sandy beach with crystal-blue water that perfectly complements the elegant luxury hotels located in the area. Amenities, excellent beach service, access to world-class spa facilities, fine dining; prepare for a perfect Mykonos day.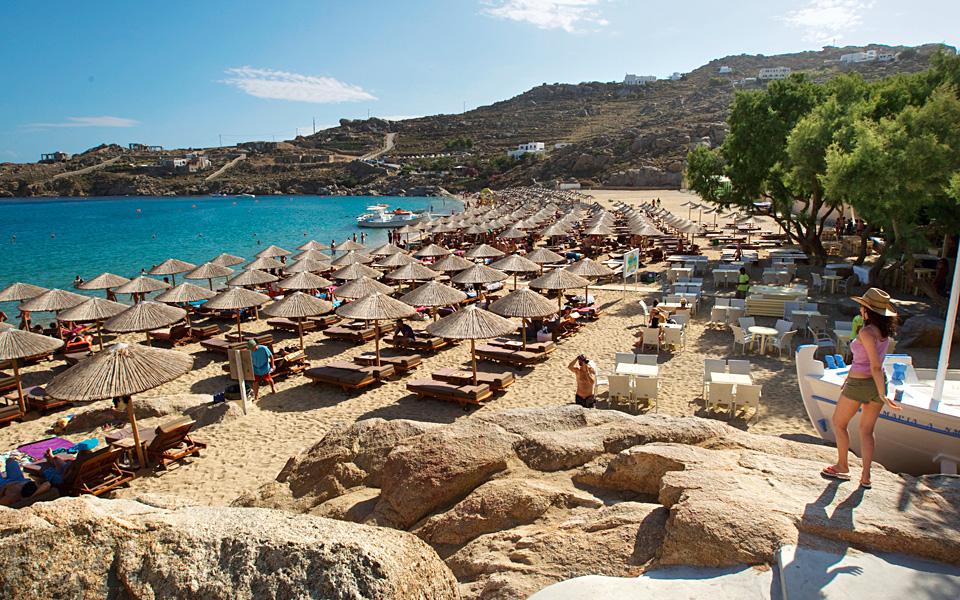 KAPARI
Small, secluded, not easily accessible. Boasts a spectacular sunset.  Easy nudism, practically no facilities, a taste of "old Mykonos". Why are you still reading? Go there, now.
MEGALI AMMOS (GREAT SAND)
You can practically walk from town, and you normally won't have to deal with big crowds on this gorgeous beach, one of the island's first to be "developed". Extremely exposed to the northern winds, a secluded Shangri-La for the experienced windsurfer who needs his space.
AGHIOS STEFANOS
A bit up north, past the hustle- and bustle of the busy "New" Port, a settlement with many hotels and accommodation complexes. A decent beach, beautiful vistas and a bus station for easy access to town. Best times to go: Sunset, sunset, sunset.
CHOULAKIA (PEBBLES)
It is unlikely that you'll get to visit this northwest beach if you are not a resident of the area. Rugged, secluded, untouched by tourism and probably the only white pebble beach in Mykonos, it will give you a real "Robinson Crusoe" feel.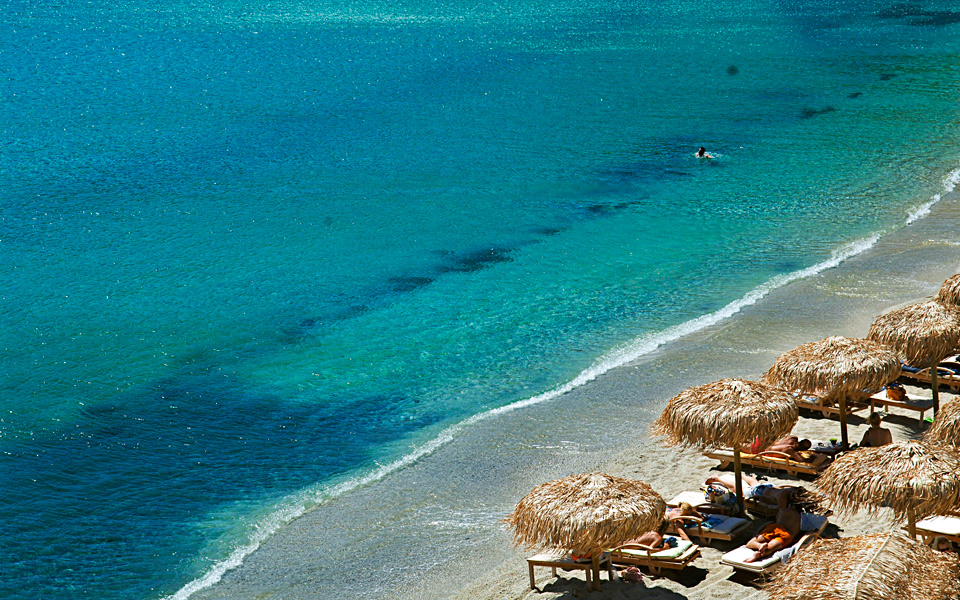 AGHIOS SOSTIS
One of the few remaining unspoiled Mykonos beaches – used to be mainly nudist, now anything goes, so be prepared. You will find no umbrellas or loungers for hire, no snack bar, no bar, no music. Stop by the beautiful twin-domed chapel of Aghios Sostis on your way up to the hillside taverna.
PANORMOS
You'll find everything you need here – a big, sprawling beach, somewhat exposed to the northern winds but still protected by Panormos Bay. Swim, socialize, eat breakfast, lunch and dinner in front of the waves, dance until dawn or walk a few steps further away and have the sand to yourself at the still-undeveloped far end of the beach.
FTELIA
The third and most intensely windswept beach in Panormos Bay.  A haven for young sports-oriented crowds, mainly wind-surfers. Funky, up-beat, well serviced. Bring a sweater or a shawl: you can never tell when there will be an evening dance party right on the beach, and you don't want to miss out just because you feel cold.
MYRSINI
Paradise lost (and found) in this hard-to approach northern beach, unspoiled, smallish, somehow frequented only by the select few. Nothing to do there but swim and sunbathe like it's nobody else's business (and it's not).
FOKOS
Twinned with Myrsini, you will recognize Fokos by its one and only taverna. If you do find a place to sit down at this eatery, don't hesitate – it will be one of your best and most authentic Greek meals.
MERCHIA
A completely wide-open, undeveloped, stunning bare Mykonos beach – currently the apple of their eye for those environmentally conscious locals who are fighting to preserve its untouched beauty.
LIA
A quaint and lovely beach that can get a bit windy. Still, it's a must-visit for the quiet, deep-into-summer blissful experience. If you love it, you may become one of those "hooked-on-Lia" types who never swim anywhere else.
KALAFATIS
Favorite meeting place for young crowds and families, a big wide friendly beach that also offers water sports and an endless opportunity for people-watching from any one of its many seaside venues.
KALO LIVADI
All day fun on this beach. Busy, happy, plenty of space for everybody, with  water sports and good food; an excellent choice if you are bringing the family.
greece-is.com