It is true that the sunsets in Santorini are the best in the world. From the Caldera you have breathtaking views of the volcano & the nearby islands. From the east,you have miles of dark sandy or pebbled beaches.You see everywher small domed churches and remenants of the gone by days. This is the true Santorini. Santorini has Villas on the Caldera, inside traditional villages & by the Sea. Santorini offers a superb selection of villas & private holiday homes. 'Standalone' properties set on the Caldera, in private countryside estates and traditional villages or by the sea suggest an alternative villa holiday option. Guaranteed peace & quiet, total privacy, supervision & maintenance services are provided in these private villas & traditional houses. Santorini Villas are an ideal solution for groups of friends, large families & honeymoon couples – great selection of villas and the best value for money accommodation choice.
Stay in one of our villas in Santorini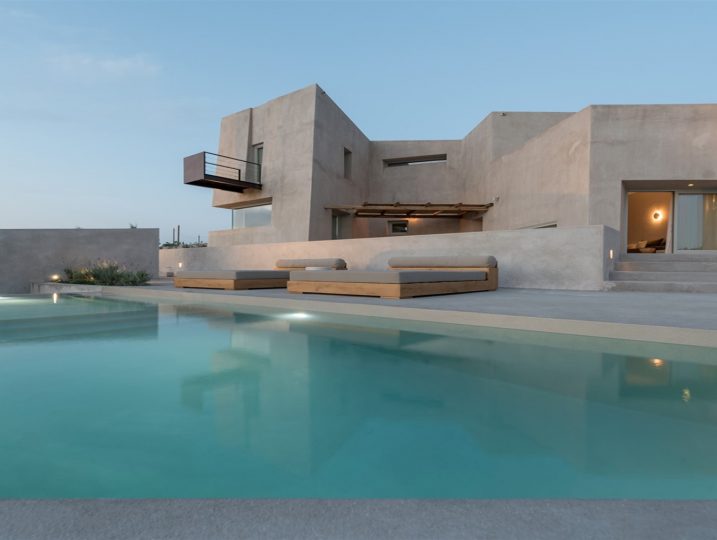 Santorini Villas
Santorini Villa Olympia is a summer residence situated at Pyrgos traditional village in Santorini Island. The house is built in a gently sloping site is surrounded by vineyards and faces southwest toward the Aegean Sea.
Details
Guests:

14

Amenities:

Air conditioning, bathrobes/slippers, CD player, Fully equipped kitchen, Hair dryer, Indoors spa, Outdoor Features, Outdoors dining, Pergola, Private pool, Safety box, Satellite TV, Sea view terraces, Wi-Fi access

Size:

0m²

Categories:

Santorini Villas

Bathrooms:

6

Extra Cost Services:

Activities and excursions

,

Airport transfer

,

Boat Tours

,

Chef service

,

Helicopter transfer

,

Spa treatment

,

Villa pre-stocking

Bedrooms:

7
Details
Guests:

14

Amenities:

Air conditioning, bathrobes/slippers, CD player, Fully equipped kitchen, Hair dryer, Indoors spa, Outdoor Features, Outdoors dining, Pergola, Private pool, Safety box, Satellite TV, Sea view terraces, Wi-Fi access

Size:

0m²

Categories:

Santorini Villas

Bathrooms:

6

Extra Cost Services:

Activities and excursions

,

Airport transfer

,

Boat Tours

,

Chef service

,

Helicopter transfer

,

Spa treatment

,

Villa pre-stocking

Bedrooms:

7